Upcoming Markham Events:

ongoing - Markham Moves Online Exhibition
ongoing - Markham Village Open Mic
ongoing - York Farmers Market
July 4 to October 10: Online Main Street Farmers' Market
July 6 to September 4: Winged Canvas Virtual Art Camp for Kids & Teens
July 27 to September 4: Art One Academy Summer Camps
July 29 to August 28: Main Street Kids Summer Camps
August 1: Diversity Festival, World of Culture!
August 4 to September 3: My Gym Small Group Summer Camp
August 19: Virtual Cooking Class
August 27: Golf Carte Blanche 2020
November 20 - 22: Markham Home For Holidays
November 21 - Markham Santa Claus Parade


Markham Weather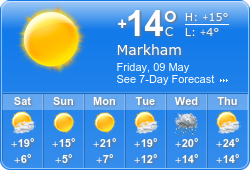 COVID-19 INFO:
Ontario encourages everyone to travel safe during this time and follow public health guidelines.

It is important to maintain at least 2-metres physical distance, frequent hand washing, and
face masks or coverings are mandatory in enclosed public spaces.