Welcome to Markham!

Located just north of Toronto Ontario, Canada, the City of Markham is a vibrant municipality of more than 353,000.
Experience our unique cultural attractions, stroll through our award-winning heritage districts in Unionville, Thornhill and Markham villages, or enjoy our year-round activities: world class theatre, the nationally acclaimed Varley Art Gallery, or walk back in time at Markham's 25-acre heritage museum.

Markham is Canada's most ethnically diverse community - a wonderful place for everyone to live, work and play!


Markham Weather Forecast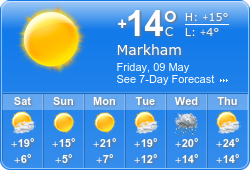 FEATURED UPCOMING EVENTS

Please note: The COVID-19 situation continues to be rapidly evolving. Canadians are taking extraordinary measures to Break the Chain of Transmission. In order to protect the health and safety of the public, the City of Markham and community partners have made some changes such as cancellations and postponements to most upcoming events.

All City of Markham recreation centres, libraries & facilities will remain closed until further notice. This includes the Markham Civic Centre, Markham Museum, and Varley Art Gallery. All playgrounds & park amenities are closed.

Please check back regularly to get the most up to date information.

April 19: Many Faces of Markham (cancelled)

April 24: Just for Laughs Road Show (moved to June 24)

May 3: 10,000 Trees Spring Planting
June 6: Unionville Festival (cancelled)
June 19-20: Markham Village Music Festival
June 26-28: Taste of Asia Festival
Check back to find out the status for upcoming events.

For more events, click here.